Kevin Oessenich - Chairman
Kevin and Cheryl have been members of Davisville since 1996. They are the parents of two married children and 4 adorable grandkids.
Kevin is the Executive Director for World Team USA. Prior to joining World Team, he served as the Dean of the School of Lifelong Learning at Philadelphia Biblical University, now Cairn University.
What gets him out of bed each morning? Discipleship, community, assisting Cheryl in real estate, a golden doodle named Wilco, and yes, the Philadelphia Eagles!
Dale Wenger - Secretary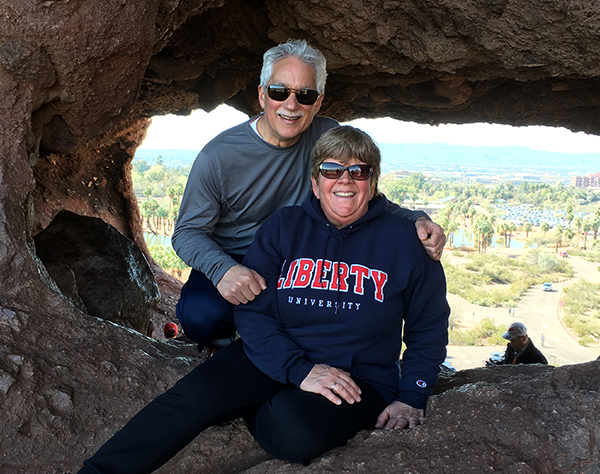 Dale grew up on a south-central Pennsylvania dairy farm and moved to the Philadelphia area to attend college at Temple University. Dale and his wife Lynn are the parents of three children, a daughter-in-law and have two adorable grandchildren.
Dale trusted Christ as his Savior as a child and has experienced continued growth and renewal at various times in his life, the most significant being the Promise Keepers men's events of the mid-1990's. Dale and Lynn have attended Davisville since 1998 and have been involved in various children, youth and adult ministries during that time.
The entire family enjoys the beach, so during the warmer months (and sometimes the other months) we can be found in Ocean City, New Jersey.
Bill Bowles - Treasurer
Bill and Sue have been members at Davisville since 2011 and Bill has served as an elder since 2015. Both are retired from Cairn University, Bill as the Chair of Graduate programs in business and leadership and Sue as the Accounts payable supervisor. Both are graduates of Appalachian Bible College having attended Moody Bible Institute before that. Bill is also a retired Air Force officer having served 25 years, 7 in the Army and 18 in the Air Force. Sue is also a veteran having served over three years in the Army. Bill and Sue have three grown children who are married and live in the area along with 8 grandchildren.
Todd A'Harrah
Todd A'Harrah is a sixth grade teacher who has attended Davisville Church since 1983, when he met his now-wife Kelly, who was instrumental in his receiving Jesus as Lord and Savior. Together they have four grown kids and four grandkids, with all of whom Todd enjoys body surfing, camping, and belly-laughing. An avid reader and photographer, Todd is honored to have served Enterprise 95 Fire Company of Hatboro as an occasional photographer.
Mark Allen
Mark, the youngest of three boys, grew up in this area and accepted Christ as his savior in first grade. He and his wife, Carrie, have attended Davisville Church for 13 years. Mark enjoys working with others by encouraging and supporting them to fully follow Jesus. Mark also enjoys barbequing, entertaining, scuba diving and enjoying time with Carrie and their Samoyed pups, Sherpa and Aloha!
Dave Breidinger
Dave was raised in the Leigh Valley and grew up the youngest of seven children. After a 36 year career with Comcast Corporation, Dave retired in 2016 and began a business consulting firm. Dave is a passionate follower of Christ who has a heart for helping people discover true "Financial Peace."
Tyler Dykstra
Tyler and Ayren have been a part of our church family since 2018. Tyler serves as the Youth Pastor for Davisville. Tyler and Ayren have three kids, Avery, Caden and Olivia. Tyler grew up in Michigan and met his wife at Moody Bible Institute in Chicago. They worked as missionaries on the Pine Ridge Indian Reservation in South Dakota for seven years before moving to Warrington, PA to join what God is doing at Davisville. They love hiking and going to the beach when the weather is warm. Tyler and Ayren are passionate about discipleship, missions, youth ministry, and going on adventures with their kids! Ayren is a committed Buckeye fan, while Tyler is a Spartan (Go Green!).
Bobby Larew
I have been a resident of Warminster, PA for most of my life. My faith in Christ developed at a young age, but I did not understand what it meant to follow Him till eighth grade. Even then I had my ups and downs, but by twelfth grade I knew I wanted to serve Him in ministry. After graduating from William Tennent High School and Messiah College with a degree in Christian Ministries God opened a door for me to pursue a music career in Nashville, TN. My success was limited, but the experience will never be regretted (I still have copies of my demo cd if you would like one). During my time in Nashville I realized my true calling was church ministry and my girlfriend at the time (now wife) was and still is the love of my life. Emily and I have four children; Jackson, Lily, Evie and Cayden. I am currently working on a Master's Degree in Religion from Cairn University. Beyond loving my role here at Davisville Church I enjoy exercising, scuba diving and wearing my Orange Crush tank top when the weather is warm.
Dave Mathewson
Dave grew up in the area, came to faith at an early age and started attending Davisville with his family when he was 10 years old. Through his involvement with several worship teams, church plants and leadership opportunities, Dave felt God was calling him to ministry. After graduating from Cornerstone University, Dave joined the Davisville staff and leadership in 2005. He served as our Worship Pastor for 12 years until he transitioned to the role of Executive Pastor in 2018. He has a passion for enabling other staff members and volunteer teams to be effective in ministry. Dave, his wife, Kristi, and their two sons, Emery, and Terry, love spending time at Peace Valley Park and grabbing a snack at Tabora Farms. If you need a good recommendation for where to go for lunch around the area, Dave would be glad to help!
Jack O'Brien
Jack O'Brien and his wife Julie have been missionaries with Camino Global since 1979. They ministered in church planting and theological education in Mexico until 1998 and now serve in Hispanic ministries and missions coaching in the Philadelphia area.
Jack came to Christ through the ministry of Davisville Church when he was six years old. His pastimes include gardening, playing guitar and singing, and discovering family history. Jack and Julie reside in Southampton and enjoy spending time with their five children and fifteen grandchildren.
Matt Rosenfeld
Matt started following Jesus at 18 years of age and shortly after began serving at Davisville. He first served as a volunteer youth leader, then as the Youth Pastor for 12 years, and now serves in the role as Pastor of Discipleship. Matt's passion is to see the church make a difference in the surrounding communities and to help people learn to follow Jesus. Matt loves spending time with his beautiful wife Megan and their 3 children: Chase, Silas, and Gretchen. Matt and his family love camping, adventuring outdoors, sports, and just doing life together.
Chuck Walton
Chuck and Janice Walton have been members of Davisville since 2005. They served as missionaries with Wycliffe Bible Translators in the Philippines for many years. For ten years they were involved in preparing and training missionaries for foreign service. At present they coordinate classes for Perspectives on the World Christian Movement, teach English as a Second Language for VITA in Bensalem and GROW-Fox Chase.
Tim Wilson
I have served on the pastoral team at Davisville since 1995 and as the Lead Pastor since 2010. I thoroughly enjoy leading the fantastic team God has put together, sharing God's timeless truth, and helping people connect to God's family and fulfill His mission of influencing people to fully follow Jesus. I am grateful to be Jodi's husband and the father of four great kids. We can often be found on the beach or the boardwalk in Ocean City, New Jersey.